Match Cruise: match3 adventure
Match Cruise: match3 adventure
Match Cruise is a free app played by match 3 fans in many countries around the world. Become a part of our sea voyage and immerse yourself in amazing adventures with Captain Roger and his crew!
Solve match-3 puzzles, complete levels and visit the most famous places in the world with your friends.
Enjoy real sea stories with our captain and become a part of them.
Make your journey even more fun and exciting by participating in challenging competitions!
Join us and let our adventure begin!
Match Cruise is:
Nice game "three in a row"
Good visuals
Dynamic and sometimes challenging levels
Funny events
Challenging mini-games
Place bets to multiply your reward
Free game tickets to play more levels
Matchland: Build Your Theme Park
Matchland: Build Your Theme Park
Welcome to Matchland! This is where you can create your amazing theme park! Our game combines building and design elements with relaxing match-3 puzzles.
This is an opportunity to restore an abandoned park and become its owner.
Make new friends, solve fantastic puzzles, and unravel mysteries along the way.
Show your imagination and creativity by decorating the park to attract more visitors.
Make your childhood dreams come true about building an amazing amusement park where anything is possible!
MatchLand is:
Thousands of fun match 3 levels
Dozens of creative decorations
New friends and adventures
Solving the mystery
Fascinating story
Stylish design
Joyful gameplay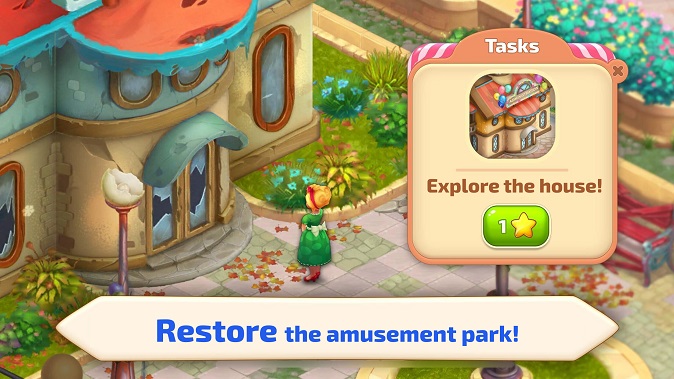 Fun Story: Play and Relax
Fun Story: Play and Relax
Have you ever thought about making people happy and realizing your creative ideas? Welcome to Fun Story! This is a free match 3 game for fun and relaxation.
Progress through clearly structured levels by collecting chips and creating powerful combinations!
Solve puzzles with boosters and work your way through tons of exciting levels!
Enjoy this amazing game and don't forget the main rule here – Play and Relax!
Fun Story is:
Exciting match-3 levels!
Unique mechanics and explosive boosters!
Amazing and exclusive rewards!
Share and receive lives from your friends